Today I am thankful for kids who are mostly healthy.

And because today they are mostly not, I'm thankful for Lysol, my washing machine and Spot Shot carpet cleaner.

I'm thankful for my husband, the best father I know.

I'm thankful for the peace of naptime and bedtime, and the noise and laughter that fills the rest of our days.

I'm thankful for everyone who reads my (mostly) daily musings and shares in my family. Here's a little noise and laughter for all of you:



Happy Thanksgiving!


Play along with Mama Kat's Writer's Workshop.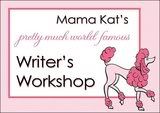 © Trippin' Mama 2010