My Sam is the sweetest boy. He also has the kind of temper that gives redheads a bad rap. Seriously, he has a scream that can make dogs howl three counties over.
Looking so innocent and sweet!
Ever since his last bout of illness, Sam has decided that he does not want to go to sleep. Not at naptime. Not at nighttime.
When we put him down, he pops back up and SCREAMS. And he's not afraid to demonstrate his stamina, either.
We'll tell Sam that it is bedtime and he will look right at us and grin while he shakes his head and says "No," very sweetly. Check him out:
It's really pretty funny, but it would be funnier if it weren't so frustrating.
On the plus side, we have other children in the house who need to sleep, so Jeff and I have been trying to ease Sam back into a better bedtime by rocking him for a few minutes before putting him down.

That is a joy.
We've never spent much time rocking the boys before bedtime. With three, we just can't. Sure, everyone gets a chance now and then, but it's the exception, not the rule as it was with Amelia.
And I miss rocking sleepy little ones. It's a peaceful way to bring a busy day to a close.
I'll be grateful when Sam gets back in the groove of lying down with his brothers and going to sleep without shattering eardrums. But in the meantime I'm enjoying this rare chance to hold him in my arms and hum a few lullabies to help him drift off to dreamland.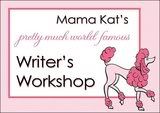 © Trippin' Mama 2010