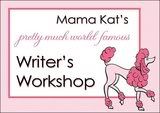 Today at Mama Kat's Writer's Workshop one of the challenges was to write a haiku describing what you love about an ordinary day. A few short lines? I'm up for that on this busy laundry day!
Of course, it was harder than I thought, but here's my effort, plus a video at the end that shows off those mischievous grins!


I hear the ruckus
Yelling from the other room
I run not knowing
I find you all safe
Mischievous grins on bright faces
Making me wonder
Was the trouble real
Or is it that you enjoy
Watching Mommy run?
Three curious boys
Many adventures to come
What will today hold?
© Trippin' Mama 2010