Dear Fellow Mamas:
I would like to commend you for taking your children on an outing that is fun, educational or both. Kudos to you for not plunking them in front of the TV while you read the lastest issue of "People."
That said, could one of you please explain why you must you carry the world's largest Gucci/Coach/Prada purse know to man on your shoulder at the park/zoo/children's museum? Seriously, some of your handbags are so big that a small child would actually fit inside of them. And I've seen more than one waist-high little person clock his head on the bag dangling from your arm and threatening to separate your shoulder.
You are endangering yourself and others with those things. Please, stop the madness. This is not a fashion show. I'm with you on the great jeans and cute top, but ditch the 42-pound bag and the spiky heels when you're here with your kids, OK?
While we're at it, would it be too much to ask for you to actually watch your children, or even interact with them while you're here? I know that's hard to do when you've got your latte in one hand and your smart phone in the other, but give it a try. Your tapping on that phone is annoying me almost as much as having to stop your kid from throwing sand because you're paying more attention to your phone than your child.
Facebook will still be there when you get home. But these moments with your kids won't last.
So take a lesson from the low-key moms out there: Stick a credit card and your driver's license in your pocket, put on some comfy shoes and get down on your knees next to your little people. They'll love you for it. And you'll be a whole lot less annoying to the rest of us.
Sincerely,
Christy
Play along with Mama Kat's Writer's Workshop.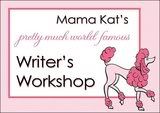 © Trippin' Mama 2011